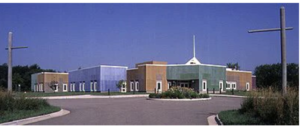 During their Jubilee year, Church of the Servant (CoS) spent time reflecting on their mission as a community of refuge, fellowship and hope. In response to decisions made by CRCNA Synod 2022, they now clarify their calling as a community of belonging in Christ.
Church of the Servant CRC, in Grand Rapids, Michigan, is one of many affirming churches in the Christian Reformed Church of North America. Below, you will find their statement.
Church of the Servant Statement of Belonging
If your congregation should be included in our list, please let us know!  
(Scroll down for info on joining Church of the Servant CRC for worship.)
(Church of the Servant gathers for worship at 10:00 a.m. on Sundays at 3835 Burton St SE Grand Rapids, MI 49546. Audio recordings of the previous week's sermon can be found on the church website, or on their YouTube Playlist.
Download the current list of affirming churches and their statements here.